The XX, Two Door Cinema Club y Nervo en el line up de Lollapalooza 2017
También están Martin Garrix, Flume y The Weeknd en la nutrida lista
Lollapalooza Argentina ya tiene su line up confirmado.
Varios artistas de la escena electronica están incluídos en la lista: Martin Garrix, The XX, The Weeknd, Two Door Cinema Club, Nervo y Flume, se destacan en esta categoría.
El afamado festival cuenta con otros números centrales como Metallica, The Strokes, Mø, Duran Duran, Rancid, Tegan & Sara, y The Chainsmokers, entre otros.
Se realizará en el Hipódromo de San Isidro el 31 de Marzo y 1 de Abril de 2017.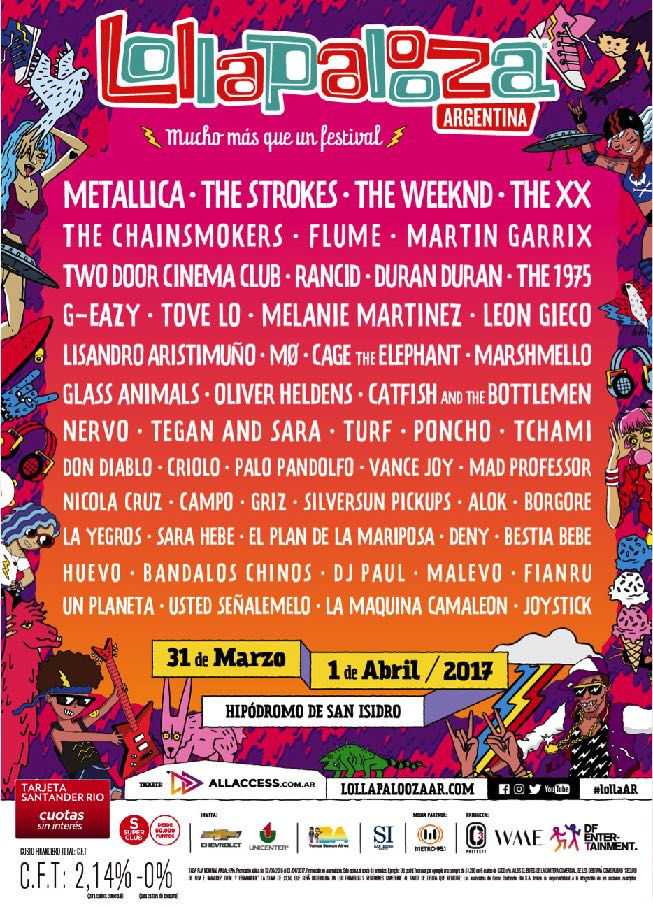 Leé mas noticias --> Click!
Tags: Dance Music, Delta 90_3, Duran Duran, Electronica, Flume, Lollapalooza, Lollapalooza Argentina, Martin Garrix, Metallica, Musica Electronica, Mø, Nervo, The Chainsmokers, The Strokes, The Weeknd, The XX, Two Door Cinema Club, Youtube
Lecturas: 1454